Update
June 26, 2011
It's time to register and send payment for our 30 Year Reunion.
Click on Registration for form and payment options
Muscatine High School Class of 1981
30 Year Class Reunion
July 1 & 2, 2011

Event: Adult Evening – Socializing (Casual Attire)
When: Friday, July 1 - 6:00 pm until Midnight www.portcitypizzas.com
Where: Port City Underground Restaurant, 208 West 2nd Street, Muscatine
Private Party in restaurant and outside deck for MHS Class of 1981 and guests

($15.00 per person at the door or if mailing registration after May 15)

Pizza and cheese sticks provided from 6:00-9:00 p.m.

Keg beer (2 kegs), Pop (provided), Cash bar from 6:00-Midnight

---
Event: Golf Outing – Four Person Best Shot
When: Saturday, July 2
Where: Geneva Golf & Country Club
Details: $60.00 per person-includes 18 holes of golf and cart rental. T-times will start at 10AM. Make your own foursome; indicate who the other players in your foursome will be. It will be a Best Shot format, with prizes and pin events. Contact Jeff Miller at 563-260-1371 for more information. Include $60.00 cost with registration. Jeff will know your T-times as we get closer to the event.
---
Event: Riverboat cruise on Mississippi River –families welcome
www.thepearlbuttonpaddlewheel.com
When: Saturday, July 2 – meet at Riverfront by Red Brick Building at 4:45 p.m
Cruise is from 5:00 to 6:00 p.m.

$10.00 – if paid after May 15 or the day of event

Cash bar is available on the boat
---
Event: Adult Evening – (Casual Attire)
When: Saturday, July 2 6:00p.m. until 2:00 a.m.
Where: Missipi Brewing Company, 107 Iowa Avenue

Details: On your own for dinner and drinks. This is not a private party but a chance to meet up with classmates and other Muscatine residents in the extended beer garden with entertainment.
---
Class Directory: $5.00 if you pick it up at the Reunion; $7.00 if mailed. Please place order when you send in your registration form.
Check out what else is happening in Muscatine
during the 4th of July weekend! Click Here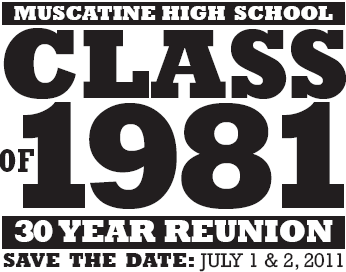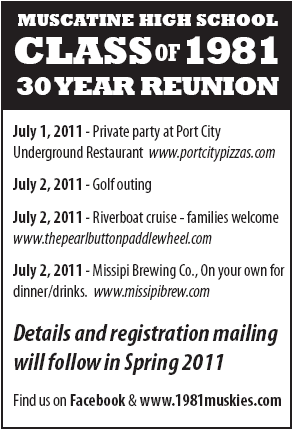 Find us on Facebook: 1981 Muscatine Muskies